Thai monks say Steve Jobs has been reincarnated as a divine being
79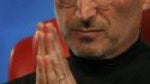 The co-founder of Apple and one of the most influential people the world has seen, Steve Jobs, has been
reincarnated as a "divine being,"
according to an abbot from a Thai Buddhist sect.
Phra Thepyanmahamuni, the abbot of the Wat Phra Dhammakaya, actually explained that Jobs is living in a parallel universe and described what Jobs' living space and daily life look like:


"Concerning the living space of this new divine being: it is a very clean-cut, simple and middle-sized, six-story in height, which is built with silver metal and crystal in large quantities and that is not very far away from where he used to work in his human form. (…) Apart from that the new divine being has about 20 celestial servants at his service which comes from karma he obtained from charitable nature during his human form like donating money, objects and knowledge for others and society."
We couldn't help but smile, and we guess if you're not involved in any religion that would be your reaction too. Steve Jobs was known to be a deeply spiritual person, embarking on a trip to India in his early years, seeking for enlightenment and mentorship, and is known to have spend hours on end meditating in the seating position of Zen buddhists at the Tassajara Zen Center in San Francisco.
And as to his views on the afterlife? Jobs wasn't sure and in an interview, given just a year prior to his death he said:


"Sometimes I believe in God, sometimes I don't. I think it's 50-50 maybe. But ever since I've had cancer, I've been thinking about it more. And I find myself believing a bit more. I kind of-- maybe it's 'cause I want to believe in an afterlife. That when you die, it doesn't just all disappear. The wisdom you've accumulated. Somehow it lives on....Yeah, but sometimes I think it's just like an on-off switch. Click and you're gone...And that's why I don't like putting on-off switches on Apple devices."
source:
The Bangkok Post
Recommended Stories