Texas Instruments announces plans for Cortex A15-based OMAP 5
11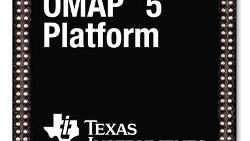 Texas Instruments just yesterday announced it's
pulling the plug on its mobile chips
amidst growing competition and dwindling margins, and today it unveils its latest and possibly last mobile chip, the TI OMAP 5.
The fifth-generation OMAP is based on the Cortex-A15 architecture and samples will ship to vendors as soon as today, with actual devices with expected to arrive early next year.
The TI OMAP 5 chip is designed for a 28nm manufacturing process and is made out of two ARM Cortex A15 cores, two Cortex M4s and SGX544 MP2 graphics.
Currently, Nvidia and Qualcomm are the two biggest chip companies in the industry, along with Samsung and Apple who apart from devices also make their own chips. ST-Ericsson is probably the fifth biggest company rounding up the list of largest chip makers now that TI OMAP could be counted out.
Most recently, the industry switched to 28nm/32nm manufacturing technology for chips which makes them both smaller and more battery-savvy. Qualcomm was the first to make the jump to 28nm with its Snapdragon S4 which was also the first platform with integrated LTE.
source:
Pocketnow