Telus sends out offical Storm OS upgrade, Verizon says their OS is coming soon
This article contains unofficial information.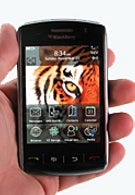 While Canadian users of the BlackBerry Storm received an OS upgrade from carrier Telus today, U.S.owners of the first touchscreen BlackBerry continue to wait for the Verizon version. The Canadian carrier sent out build 4.7.0.122 to its customers with the 9530 model. If you are not a Telus customer, downloading their upgrade would be akin to downloading a leaked copy onto your phone, which means that you can void your warranty or brick your phone if you attempt to load this on to your Storm. Meanwhile, an assistant to Verizon Wireless CEO Lowell McAdams told us yesterday to expect an upgrade from Big Red soon, one that would take care of whatever ails the handset. Yesterday, a BGR tipster who works for Verizon said that he had received an email from the carrier saying that Verizon's Storm users would be alerted Tuesday via email of an impending upgrade. While that didn't happen, the email said that Verizon was going to be sending out OS version 4.7.0.141 to their 9530 owners. Like any storm, this one has been full of wind, keeps changing directions, and is leaving some people out in the cold, soaking wet.
BlackBerry Storm 9530 Specifications
|
Review
source: Telus via
CrackBerry
,
BGR