Telegram announces impressive 200 million monthly active users milestone, releases new update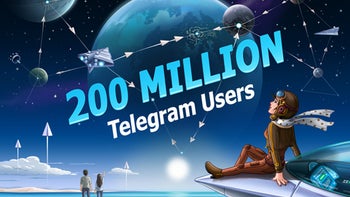 Telegram has been gathering followers from other messenger services since its release and it looks like the number has reached an impressive milestone. The company behind the chat app has just announced that within the last 30 days, Telegram was used by no less than 200 million people.
Above all, we at Telegram believe in people. We believe that humans are inherently intelligent and benevolent beings that deserve to be trusted; trusted with freedom to share their thoughts, freedom to communicate privately, freedom to create tools. This philosophy defines everything we do.
Telegram released updates for Android and iOS apps
, which bring improvements to the way users can discover new stickers.
So, if you're using the last version of Telegram, you'll be able to take advantage of the new search for sticker sets option. Simply scroll up in the sticker panel and you'll find the new search field added in this update.
Another important enhancement is the ability to send multiple pictures to a recipient, as well as receive more than one picture from one of your contacts. Also, the iOS version of Telegram received a
new Auto-Night Mode setting
that allows users to automatically switch to the dark version of the interface. This specific feature was initially released on Android, but now iOS users can use it too.
Last but not least, iOS users also get support for text formatting in media captions, along with the ability to report individual messages in public entities. It's also worth mentioning that both Telegram apps have been optimized to make it lighter on battery usage.