Teen interest in Nokia fading?
4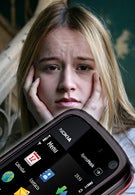 A poll by the Habbo Hotel website shows teens are rapidly losing interest in Nokia cell phones. More than 112 000 young people aged 13 to 16 took part in a survey that revealed that less than 21% of them were interested in getting a Nokia phone as opposed to over 29% last year. Customer opinion in India and China was not surveyed though, where Nokia is still leading the pack on the cell phone market. Analysts at leading companies have already voiced their opinion - Carolina Milanesi with Gartner Research is convinced the drastic slump in popularity is mainly due to the lack of attractive offers by the manufacturer at the moment, while another one with GC Research claims the reason behind the staggering figure is the manufacturer doesn´t have enough midrange cell phones in their product portfolio, especially when it comes to touch sensitive screen handsets like the Samsung´s
Preston S5600
and
Star S5230 or
and LG´s
Cookie KP500
.
Despite the fact Nokia seems to have lost market position, it still remains the leading cell phone provider worldwide. Can another manufacturer take the lead and deprive Nokia of the crown we wonder.
Source:
Reuters