Teardown shows Amazon Fire Phone costs $205 to build
20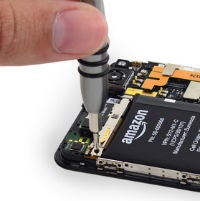 Any time a major new device comes out, there are two things you can expect: 1) a full teardown of the device; and, 2) a breakdown of the build cost based on that teardown. Last week,
iFixit did the first teardown
of the Amazon Fire Phone, and found that it is decidedly not a device meant for DIY repairs. Now, the build cost has been calculated.
The build cost has been calculated by IHS, but the official report isn't due to be published until tomorrow (Tuesday July 29th). But,
Re/code
has gotten a peek at the report and is saying that the Fire Phone costs just $205 to build. For comparison, the Samsung Galaxy S5 reportedly
cost $256
to build, and the iPhone 5s clocked in at $199. Where Amazon seemed to save quite a bit was on the display module (often the most expensive component), which cost just $27 for the Fire Phone's 720p display. Most of the added cost on the Galaxy S5 came from the display, which cost $63 for its 1080p display.
Overall though, IHS is calling Amazon's device "a pretty standard mid-range phone from a hardware perspective" where the only "unique thing" is in the four dynamic perspective cameras. That is a sentiment echoed around the web so far, and usually not with positive connotations. It's still a bit early to tell whether consumers are interested in what Amazon is offering though.