Amazon Fire Phone teardown promises a tough time for DIY repairs
9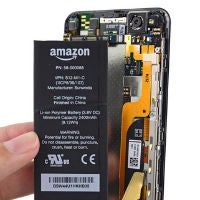 We're still working on our review of the Amazon Fire Phone (though the general sentiment around the web is generally somewhat negative), but in the meantime, iFixit has finished its full teardown of the device and that also doesn't look that great. According to iFixit, the Amazon Fire Phone is not designed to allow for easy DIY repairs.
iFixit has given Amazon's first smartphone a score of just 3 out of 10 on repairability, with a 10 being the easiest to repair. In addition to some issues with adhesives, the Fire Phone just isn't designed to make it easy on you. Apparently, the phone is not modular, meaning parts will often share cables, which increases the cost of repairs. And, of course, those four extra cameras on the front make things much more difficult, both because they are difficult to replace individually (lots of glue), and because they will need to be a part of any replacement display unit, which will add to the cost of the part.
Overall, iFixit says that the Fire Phone is just a mess of cables and connectors, which make it difficult to take apart, and even more difficult to reassemble. If you're planning to crack open your Fire Phone, be sure to keep notes on what goes where, or you may run into trouble.