Take that, naysayers! New study reveals that Pokemon GO players walk an extra 2,000 steps per day
7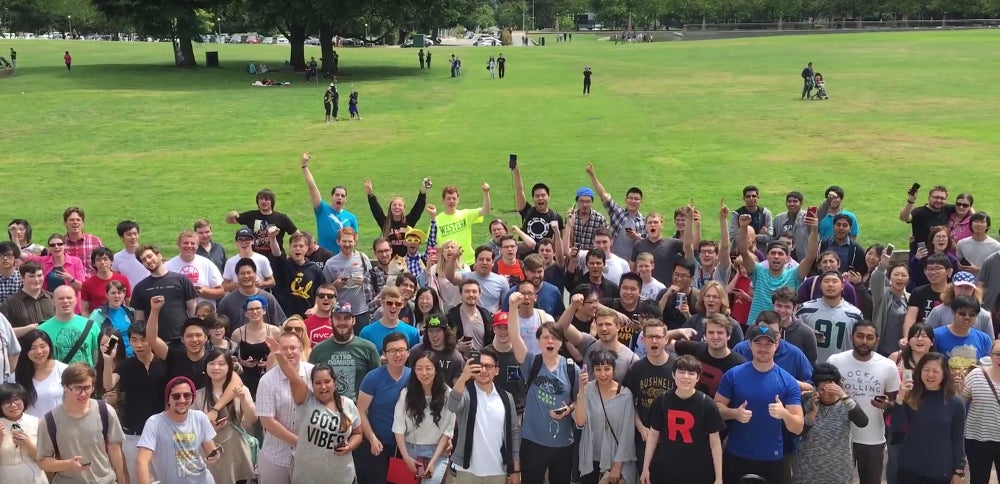 Pokemon GO players at Bellevue Downtown Park, WA
No matter how some people percieve Pokemon GO, no one can deny that the title's location-based AR gameplay is truly something different. Ever since it's initial release in July 2016, the game has given players the incentive to leave the couch and go out in the real world in order to locate, capture, battle, and train the charming creatures of the Pokemon universe.
At a first glance, all of this suggested that Pokemon GO is actually good for your health (if you mind your surroundings), but then a
British Medical Journal
survey
from December of 2016 concluded that although there was an observable initial increase in physical activity with Pokemon GO players (955 steps compared to non-players), the effect pretty much disappears after 6 weeks. However, American researchers beg to differ.
A new study from the
American Heart Association
which tracked 167 players between June 15 and July 31 2016 (about six and a half weeks) reveals that users which played the popular smartphone game actually increased their daily step count by 1,976 steps on average. The biggest increase was noticed in the participants who needed it the most – players with the lowest physical activity levels and those that are overweight/obese actually clocked an extra 3,000 steps per day.
Hanzhang Xu, a graduate student at Duke University School of Nursing in Durham, North Carolina, has commented on these statistics:
We wanted to determine if Pokémon Go can provide an enjoyable way to engage people in regular physical activity. Our findings suggest that active-play games, such as Pokémon Go, may encourage people who live sedentary lifestyles, who otherwise may not participate in traditional forms of exercise, to increase their physical activity.
Participants were also nearly twice as likely to surpass the 10,000 daily step goal which is reccomended by the National Health Service after playing Pokemon GO, and while Ms. Xu acknowledges that 2,000 additional extra steps per day might not seem like a big gain, other studies show that this daily increase can lower the risk of stroke or heart attack with high-risk individuals by 8 percent:
Considering the low level of physical activity in the United States, doing some physical activity is always better than sitting on the couch... While current physical activity guidelines recommend activity such as running or swimming to promote health and fitness, it should be noted that the best form of physical activity is the one that people will do. We think our study could have implications for the design of other digital health interventions that encourage people to exercise more.
Although this study also admits that initial interest may decline overtime, additional content like the inclusion of the
second-gen Pokemon
in the game can lure many players back to the "great outdoors".
Do you think games like Pokemon GO can be beneficial to one's health? Let us know in the comments.
source:
EurekAlert!
via
CNet