Positive effect from Apple's new iPads will be short lived
10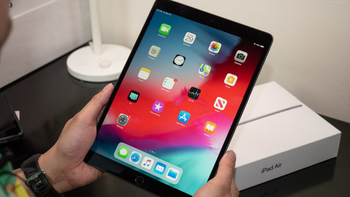 For the first quarter, 37.15 million tablets were shipped. While that was down 12.8% from the fourth quarter of 2018, the number of tablets shipped in Q1 actually rose 13.8% over the prior year. The first quarter is usually a seasonally slow period for tablets, but this year the category got a boost from the two new iPads that Apple released in March. Those models included the 10.5-inch
iPad Air (2019)
and the
iPad mini (2019)
. Also helping a bit was the release of the Huawei MediaPad M5 Pro.
While the iPad remains the top tablet in terms of shipments, during the quarter Huawei took over second place from Samsung. For the current three month period, the same manufacturers are expected to remain numbers one, two and three in terms of shipments. And to fight back against larger phone screens, tablet displays are on the rise too. 67% of new slates delivered during the first quarter carried screens of 10.x inches. This was up 11 percentage points from the previous quarter. For the first time, tablets with screens measuring 10-inches and higher (including 11-inch screens and up) made up more than 50% of the total number of tablets shipped. That figure should rise this quarter with lower demand for Apple's 9.7-inch iPad models.d
The Apple Ax SoC powered the largest number of tablets shipped in the first quarter. That was due to the dominance of the iPad. Meanwhile, Qualcomm took over second place from MediaTek. The latter's shipments declined sharply during the first three months of the year, and MediaTek chipsets are found mostly in Amazon's 7-inch and 8-inch slates. Shipments of these Fire Tablets declined during the first quarter.