Tablet shipments may be 21.6 million in Q2 thanks to the iPad and... Nexus Tablet?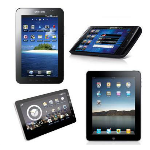 A new report from DigiTimes is looking into the oncoming quarter and trying to determine what the tablet market is going to look like. Not surprising, the research team expects it to be a big quarter for tablets, possibly with as many as 21.58 million units shipped in Q2 alone.
According to DigiTimes, a source we tend to trust for pure numbers but not so much for analysis, has crunched the numbers from its various hardware sources and expects the tablet PC market to make up 21.58 million units shipped in Q2 of 2012. This would represent a 47.5% increase over last year. And, this would be a big jump from Q1 of 2012, which DigiTimes says will show a drop of about 8.2% over last year.
The report doesn't overtly say it, but the big sales of next quarter seem to be due to two devices: the new iPad and the Nexus Tablet. The report notes that Apple will stay the top tablet manufacturer, showing that the new iPad is expected to be a big shipper in Q2. But, the report also says that Asus has a chance to become the #3 tablet maker (we're assuming Samsung is #2) because of "its cooperation with Google for 7-inch products." So, it seems that the upcoming Nexus Tablet is expected to ship quite a number of devices in Q2.
Of course, this could very well not be the case depending on Google's sales strategy for the tablet. If, as reports suggest, Google is planning to sell the tablet via the Google Play store, shipments (though no necessarily sales) won't be so high. However, if Google is going to get the device into physical stores, then those shipment numbers could be quite a bit higher.