Tablet ownership doubled over the Holidays, one in five has a tablet now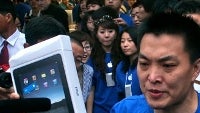 We knew
tablet sales
would boom over the Holidays, but we never thought the jump would be that huge. With the iPad, leading the charge, and the Amazon Kindle Fire and Barnes & Noble Nook Tablet also counted as tablets and not e-readers, tablet ownership nearly doubled from December 2011 to January 2012, according to a survey by Pew Research. Now, 19% of US adults have a tablet, up from only 10% back in December.
What's interesting is that the surge comes after tablet sales quietly progressed, only to boom over the Holidays. The
sub-$200 Kindle Fire
and the price cuts on many 7-inch tablets, is probably to blame, but we shouldn't downplay the success of the iPad paired with the spirit of giving.
High-income households were particularly eager to get a tablet. Now, more than a third of those living in households earning above $75,000 had a tablet. Among those who got college educated, tablet ownership also stands at nearly a third.
What are your impressions about tablet ownership? Have you noticed a surge in tablets in your surroundings?