TAT concept video shows a brave new world for smartphone and other displays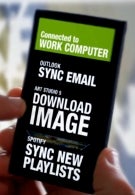 The Astonishing Tribe (TAT) are a Swedish design studio that does user interfaces, among other things, and was part of the group behind the Android UI. They recently came up with a short concept video combining existing and in-development display technologies like flexible and transparent screens or color e-ink, to try and visualize what the future will hold around 2014 for smartphones, PC monitors and bathroom mirrors alike.
The smartphone they are using seems to be all screen, and the whole video is a swirl of multitouch gestures, swiping, newscasting by your bathroom mirror, and other quite possible shenanigans. It's a fascinating watch, but we'd have to say that the possibility of Sweden winning the World Cup is up there with the probability of us being able to stretch our phones in widescreen format like at 0:26 in the video below.
source:
TAT