T.S. Eliot's "The Waste Land" becomes official iPad App of the Week, a first for poetry
1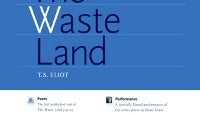 Now here is a good example of why the App Store contributes so much value to Apple's gadgets. When Faber & Faber, the publishing house of one of the greatest English-language poets of the last century, T.S. Eliot, started plotting a suitable means to usher his works in the digital era, it asked Touch Press to co-create an iPad application.
And within hours of its appearance in the form of an app on the UK iTunes store, "The Waste Land" by T.S. Eliot, one of his best poems, climbed to the
top in the books category
.
Not only that, but Apple also officially proclaimed it as the iPad App of the Week. Needless to say, the publishers were thrilled that a niche poetry app, and fairly expensive at that, $13.99, is receiving such recognition:
"
The pioneering new digital edition of T. S. Eliot's great poem features a powerful filmed performance of the complete work by acclaimed actress Fiona Shaw (Aunt Petunia in Harry Potter) , as well as readings by Sir Alec Guinness, Ted Hughes, Viggo Mortensen and Eliot himself. The title is co-published by Faber and Touch Press.
Henry Volans, Head of Faber Digital, noted: "It is inspiring to see a poem compete among the top-selling apps and being selected App of the Week is an important and thrilling first for poetry.
"
The Waste Land app offers many features that a book can't, like the above mentioned Fiona Shaw performance of the poem.
There is also a gallery of photos that are illustrating it, and some famous voices, like Viggo Mortensen's, reading the whole thing out loud, not to mention an author's audio narration by Eliot himself.
Some might argue that not much is left to the imagination with such a multimedia-rich app, but our premise here is that among the thousands of apps there are certain gems that make different people, with all their different interests and needs, welcome the digital age. At least for now the App Store comes to mind first when people think of the more sophisticated (and more expensive) examples.
source:
iTunes
via
NYT
&
Appmodo
Recommended Stories