T-Moblie puts all its smartphones and tablets on sale this Saturday
5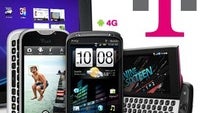 Remember when we told you that
T-Mobile may have something special in stock
for this Saturday? Well, it turns out that the rumors were definitely on the right track.
On September 24
, T-Mobile will be holding the rightfully-named "Yes, Every Smartphone Is on Sale" sale, during which
all of the carrier's smartphones, tablets, and mobile broadband devices will be available at discounted rates
.
The discount comes in the form of a mail-in rebate ranging from $25 to $200, depending on which device you choose to walk out with. For example, a brand new
HTC Sensation 4G
comes with a $100 mail-in rebate, which effectively drops your net down payment to $99, and picking a
BlackBerry Bold 9900
will bring $150 back in your post box setting the net down payment on the smartphone down to that same $99 figure.
Of course, there are a few strings attached to the deal. Signing up for a 2-year Unlimited Value plan is among the requirements with another one being the equipment installment plan, according to which the remaining value of the device you pick must be paid to the carrier in 20 interest-free monthly payments.
Nevertheless, if commitment is not an issue and you are already considering taking advantage of the carrier's sale on Saturday, here is how
all T-Mobile smartphones and tablets
will be priced. However, be aware that the special will be available in T-Mobile stores only.
source: T-Mobile