T-Mobile's new upgrade pricing for smartphones
8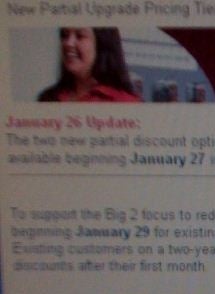 Ever wish you could get those nice phone discounts that brands new customers get? Starting today (Jan 27th) T-Mobile is going to make that happen with their smartphone customers, as they can upgrade their smartphone each year and pay the same price that a new customer would. Furthermore, customers with voice & text phones may also upgrade to a smartphone after 1 year and also get new customer pricing. There will also be two Tiers of pricing, where Tier 1 "Early Upgrade Discount" requires you to have 1-11 months of service on an individual plan of $29.99 or higher, or a family plan of at least $49.99. The Tier 2 "Early Upgrade Plus" is for customers with 12-24 months of service on an individual plan of $29.99 or higher, or a family plan of at least $49.99...but
smartphones will qualify for a full discount pricing at the "Early Upgrade Plus" Tier 2 level
. So that is why you have to wait at least a full 12 months to take advantage of the smartphone discounts. Qualifying smartphones that are eligible for the full discount at the "Early Upgrade Plus Level" Tier 2 are:
BlackBerry Pearl 8120,
BlackBerry Pearl Flip 8220,
BlackBerry Curve 8320,
BlackBerry Curve 8520,
BlackBerry Curve 8900,
BlackBerry Bold 9700,
HTC Touch Pro2,
Motorola CLIQ,
Samsung Behold,
Samsung Behold II,
Sidekick 2008,
Sidekick LX 2009,
Shadow 2009,
Dash 3G, G1,
myTouch, and
myTouch Fender LE.
source:
tmonews