T-Mobile's Samsung Galaxy S III owners get free download of The Avengers on September 25th
11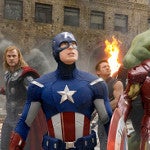 The number one movie of the year thus far
, and the third largest grossing film of all time, is coming to your
Samsung Galaxy S III
if you are a T-Mobile customer. "Marvel's The Avengers" will be available on September 25th to be loaded onto the phone via the Samsung Media Hub, only at T-Mobile. From there, it is just a matter of wirelessly sharing the flick with a compatible TV using the AllShare Cast feature and AllShare Cast Wireless Hub. And with the carrier's Unlimited Nationwide 4G Data plan, users can view movies and other content without worrying about data caps, overage charges or extraordinarily slow throttled data speeds.
every second of a movie or song
without it counting against a data cap. This is important in an era where 11% of smartphone owners spend more time viewing video on their phone than they spend watching television.
Beginning September 25th, "Marvel's The Avengers," will be pre-loaded onto all new and existing Samsung Galaxy S III models running on T-Mobile's network. That is the same day that the movie becomes available on Blu-ray 3D, Blue-ray, DVD, digital and on-demand throughout the United States. And thanks to a recent software update on the device, licensed content from the Samsung Media Hub can be shared wirelessly to an HDMI enabled television using Samsung AllShare Cast Wireless Hub. This accessory will be available from T-Mobile stores and online starting September 24th and will cost $99.99.
source: T-Mobile
T-Mobile to Bring "Marvel's The Avengers" to the Samsung Galaxy S® III



"Marvel's The Avengers," the No. 1 Movie of the Year, Will be Virtually Preloaded on All New and Existing T-Mobile Galaxy S III Smartphones Starting Sept. 25th



BELLEVUE, Wash. — Sept. 20, 2012 — T-Mobile USA, Inc., the No. 1 mobile operator brand in Samsung Galaxy S® sales, and Samsung Telecommunications America, LLC (Samsung Mobile),1 today announced new and enhanced features which will be added to all Samsung Galaxy S® III smartphones at T-Mobile®.



Expanding on the already robust entertainment and sharing features of the top-selling Galaxy S III, new and existing owners of the smartphone will receive "Marvel's The Avengers" – the no. 1 movie of the year and 3rd biggest release of all time - as a virtual preload, available for download in the Samsung Media Hub, only at T-Mobile. In addition, T-Mobile customers will have the ability to wirelessly share licensed content, such as movies and TV shows, to a compatible TV via the AllShare Cast feature and AllShare Cast Wireless Hub. Paired with T-Mobile's new Unlimited Nationwide 4G Data plan, the new features make it easy for customers to stream or download unlimited video content, including their favorite movies and TV shows, without having to worry about data caps, speed limits or overages.



With today's on-the-go lifestyle, an overwhelming majority (91 percent) of smartphone owners are using their devices for entertainment purposes for a wide variety of content – from YouTube clips and user-generated videos to feature films, games, music and more. In fact, a recent T-Mobile survey2 found this trend to be on the rise and more than one in 10 (11 percent) surveyed smartphone users rely on their smartphones so much for entertainment that they watch more video content on their devices than on their TVs.



"T-Mobile is committed to bringing leading-edge smartphone experiences to our customers by offering new features, including exciting content such as 'Marvel's The Avengers,'" said Brad Duea, senior vice president, product management, T-Mobile USA. "Whether our customers choose to stream or download content directly to their devices or share it to the big screen, as the only nationwide 4G network that offers an unlimited 4G data plan, T-Mobile is making it easier than ever to unleash all that the Galaxy S III has to offer."



The third most-popular movie of all time, "Marvel's The Avengers," will be virtually pre-loaded on all T-Mobile Galaxy S III smartphones with this exclusive offer. The movie will be available in HD quality beginning Sept. 25 — the same day "Marvel's The Avengers" becomes available on Blu-ray 3D, Blue-ray, DVD, digital and on-demand across the nation. T-Mobile customers can download "Marvel's The Avengers" movie by visiting Samsung Media Hub on their Galaxy S III.3



"We are excited to partner with T-Mobile on this groundbreaking promotion and provide the highest-quality film experience for 'Marvel's The Avengers' to Galaxy S III smartphone owners," commented Dan Cohen, executive vice president, pay television and digital, Disney-ABC Domestic Television.



In addition, with a recent software update, Galaxy S III owners will be able to share licensed content, including TV shows and movies from Samsung Media Hub, wirelessly with AllShare Cast to any HDMI-capable TV with the addition of a new accessory, the Samsung AllShare Cast Wireless Hub. The AllShare Cast Hub accessory will cost $99.99 and will be available via http://www.T-Mobile.com and in T-Mobile retail stores beginning Sept. 24.



To showcase the new features of the Galaxy S III, as well as T-Mobile's full suite of Samsung Galaxy S devices, T-Mobile will introduce the Samsung Galaxy Zone in stores around the country this fall. The new interactive fixture will be rolled out in hundreds of locations and will provide an exclusive, enhanced retail experience for T-Mobile customers. The Galaxy Zone offers customers the opportunity to demo a Samsung device while using two television screens to visually supplement demonstrated device activity, such as AllShare Play, bringing to life the amazing experiences these devices offer.





1 Samsung Mobile is the No. 1 mobile phone provider in the United States according to Strategy Analytics, North America Handset Vendor Marketshare, Q2 2012.



2 About The Survey The T-Mobile Smartphone Screen Survey was conducted between May 29th and June 5th, 2012 among 1,031 Americans ages 18 and over who own a smartphone, using an email invitation and an online survey. Results of any sample are subject to sampling variation. The magnitude of the variation is measurable and is affected by the number of interviews and the level of the percentages expressing the results. In this particular study, the chances are 95 in 100 that a survey result does not vary, plus or minus, by more than 3.1 percentage points from the result that would be obtained if interviews had been conducted with all persons in the universe represented by the sample. The margin of error for any subgroups will be slightly higher.



Kelton is a leading global insights firm serving as a partner to more than 100 of the Fortune 500 and thousands of smaller companies and organizations. Utilizing a wide range of customized, innovative research techniques and staff expertise in marketing, branding, PR, media, and business strategy; Kelton helps drive our clients' businesses forward.



3 Data rates apply unless downloaded via Wi-Fi.



Samsung, Galaxy, Galaxy S and Super AMOLED are trademarks of Samsung Electronics Co., Ltd. Other company names, product names and marks mentioned herein are the property of their respective owners and may be trademarks or registered trademarks.



About T-Mobile USA:

Based in Bellevue, Wash., T-Mobile USA, Inc. is the U.S. wireless operation of Deutsche Telekom AG (OTCQX: DTEGY). By the end of the second quarter of 2012, approximately 130 million mobile customers were served by the mobile communication segments of the Deutsche Telekom group — 33.2 million by T-Mobile USA — all via a common technology platform based on GSM and UMTS and additionally HSPA+ 21/HSPA+ 42. T-Mobile USA's innovative wireless products and services help empower people to connect to those who matter most. Multiple independent research studies continue to rank T-Mobile USA among the highest in numerous regions throughout the U.S. in wireless customer care and call quality. For more information, please visit http://www.T-Mobile.com. T-Mobile is a federally registered trademark of Deutsche Telekom AG. For further information on Deutsche Telekom, please visit http://www.telekom.de/investor-relations.



About Samsung Telecommunications America:

Samsung Telecommunications America, LLC, (Samsung Mobile) a Dallas-based subsidiary of Samsung Electronics Co., Ltd., researches, develops and markets wireless handsets, wireless infrastructure and other telecommunications products throughout North America. For more information, please visit www.samsung.com.



About Samsung Electronics Co., Ltd.:

Samsung Electronics Co., Ltd. is a global leader in semiconductor, telecommunication, digital media and digital convergence technologies with 2011 consolidated sales of US$143.1 billion. Employing approximately 206,000 people in 197 offices across 72 countries, the company operates two separate organizations to coordinate its nine independent business units: Digital Media & Communications, comprising Visual Display, Mobile Communications, Telecommunication Systems, Digital Appliances, IT Solutions, and Digital Imaging; and Device Solutions, consisting of Memory, System LSI and LED. Recognized for its industry-leading performance across a range of economic, environmental and social criteria, Samsung Electronics was named the world's most sustainable technology company in the 2011 Dow Jones Sustainability Index. For more information, please visit www.samsung.com.



Forward-Looking Statements:

This press release contains forward-looking statements that reflect the current views of Deutsche Telekom management with respect to future events. These forward-looking statements may include statements with regard to the expected development of revenue, earnings, profits from operations, depreciation and amortization, cash flows and personnel-related measures. You should consider them with caution. Such statements are subject to risks and uncertainties, most of which are difficult to predict and are generally beyond Deutsche Telekom's control. Among the factors that might influence our ability to achieve our objectives are the progress of our workforce reduction initiative and other cost-saving measures, and the impact of other significant strategic, labor or business initiatives, including acquisitions, dispositions and business combinations, and our network upgrade and expansion initiatives. In addition, stronger than expected competition, technological change, legal proceedings and regulatory developments, among other factors, may have a material adverse effect on our costs and revenue development. Further, the economic downturn in our markets, and changes in interest and currency exchange rates, may also have an impact on our business development and the availability of financing on favorable conditions. Changes to our expectations concerning future cash flows may lead to impairment write downs of assets carried at historical cost, which may materially affect our results at the group and operating segment levels. If these or other risks and uncertainties materialize, or if the assumptions underlying any of these statements prove incorrect, our actual performance may materially differ from the performance expressed or implied by forward-looking statements. We can offer no assurance that our estimates or expectations will be achieved. Without prejudice to existing obligations under capital market law, we do not assume any obligation to update forward-looking statements to take new information or future events into account or otherwise.



In addition to figures prepared in accordance with IFRS, Deutsche Telekom also presents non-GAAP financial performance measures, including, among others, EBITDA, EBITDA margin, adjusted EBITDA, adjusted EBITDA margin, adjusted EBIT, adjusted net income, free cash flow, gross debt and net debt. These non-GAAP measures should be considered in addition to, but not as a substitute for, the information prepared in accordance with IFRS. Non-GAAP financial performance measures are not subject to IFRS or any other generally accepted accounting principles. Other companies may define these terms in different ways.



# # #