T-Mobile's Legere "hopes" that Amazon's smartphone won't have the same fate as AT&T's exclusive Facebook phone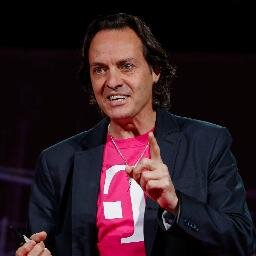 Earlier today, The Wall Street Journal reported that
Amazon's first smartphone
would be
exclusively sold by AT&T
- so customers using the services of other carriers won't be able to buy it, unless they're willing to switch. T-Mobile CEO John Legere took to Twitter to express his opinion about this, saying that "exclusivity sucks for customers," and, even more, "exclusivity on AT&T sucks for the industry." Of course, T-Mobile launched exclusive handsets over the years, too, the latest being the
Sony Xperia Z1S
.
Legere also tweeted this: "Let's hope Amazon doesn't fall victim to the AT&T curse that is the Facebook phone." As you may remember, last year AT&T and Facebook teamed up to release the
HTC First
, which came pre-installed with Facebook Home. The phone was a flop, and it's still available at AT&T's website (for free on contract). We're pretty sure that Amazon's handset will have more to offer than the ill-fated Facebook phone - though, of course, that remains to be seen.
Amazon is hosting a press event tomorrow
, on June 18, and it will most likely reveal its smartphone then. The device reportedly has an innovative 3D UI that's "unlike anything else." We'll be here to let you know all about it handset as soon as official details are available.