T-Mobile's Garminfone not selling says Wall Street analyst
This article contains unofficial information.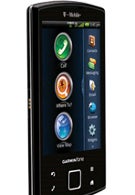 According to Oppenheimer analyst Yair Reiner, T--Mobile's Garminfone could end up in the same situation that befell the AT&T Nuvifone G60-lack of sales leading to discontinuation. As you would expect from Garmin, both models are navigation centric and the manufacturer said earlier this year that it is disappointed with the sales of the Linux powered Nuvifone G60. According to Reiner, T-Mobile did not follow through on the launch of the device with timely promotion. In his report to Oppenheimer brokers and customers, he said, "Before the product launched, many sales associates spoke with enthusiasm about the device, stating it had by far the best navigation functionality of any mobile phone," he continued, "However, even several days after release, many stores had not yet put the handset out on display, which was probably not very beneficial for sales. Others had not sold any despite displays being set up and several sold a few (less than 5). As of the beginning of this week stores have yet to show any meaningful sales numbers with maybe five sold on average per store since launch." Reiner says that the carrier has sold a total of just 20,000 units. One of the problems is that the phone runs the ancient Android 1.6 OS. Furthermore, Android phones running 2.0 or higher are equipped with free turn-by-turn navigation from Google, hitting the Garminfone right in its heart. Also, some have considered the Garminfone to be pricey at $199.99 after a $50 mail-in-rebate and a signature on a two-year contract. To put that price in perspective, the upcoming high-end Motorola DROID X, launching with Android
2.1
, will cost the same $199 after a $100 mail-in-rebate and a signed two-year pact. Shortly after launch, T-Mobile ran a Father's Day promotion and the handset was offered free with a new family plan and that also put a dent in sales. Reiner visited 50 T-Mobile stores to gather the necessary research for his report.
Garmin-Asus Garminfone Specifications
|
Hands-on
source:
FierceWireless