T-Mobile's CTO talks about the carrier's future connectivity; new HSPA+ markets added
9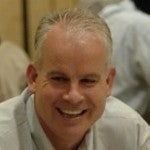 The nation's fourth largest carrier is expanding its 4G HSPA+ footprint. According to T-Mobile's CTO Neville Ray, the carrier is adding its 4G service to Abilene, Amarillo, Odessa, and Victoria, Tex; Bakersfield, CA; Eau Claire, Wis.; Joplin and St. Joseph, MO. This expands the nation's largest 4G network to
cover over 200 million people in 225 markets in the States
. T-Mobile customers in Abilene, Amarillo, Bakersfield, Odessa, Port St. Lucie, and Victoria will be able to get speeds as fast as 42Mbps which they can use on the upcoming Samsung Galaxy S Blaze 4G, which is
expected to launch March 28th
as we reminded you last night, and the upcoming HTC One S.
Ray was the subject of an interview on the carrier's blog page and in the course of the questioning, T-Mobile's technical chief said that 84Mbps download speeds on the HSPA+ pipeline is
something that the carrier is evaluating
, but T-Mobile plans on investing $4 billion over time and will have its
own 4G LTE offering sometime next year
. And the good news for T-Mobile, is that it is deploying LTE at a time when prices are lower for equipment and infrastructure. At the same time, the performance of LTE has improved and the carrier plans on rolling out LTE release 10 compatible equipment and will be well positioned to move to LTE advanced when it is ready.
T-Mobile is able to put together an LTE network thanks to the AWS spectrum it received from AT&T as the consolation prize for the
termination of the AT&T purchase of T-Mobile
. The carrier will also refarm some of its 1900MHz spectrum to use for HSPA+ which will free up additional spectrum for LTE. If all goes according to plan, by 2013 the carrier will have 20MHz LTE service in 75% of the top 25 markets in 2013 with the rest covered by 10MHz LTE service.
Another benefit of the refarming is that it will make T-Mobile's network
compatible with the Apple iPhone
. The carrier is the only one of the top four U.S. carriers not offering the popular device and that could change after all of the work is completed.
source:
T-Mobile