T-Mobile to snag the iPhone this summer?
This article contains unofficial information.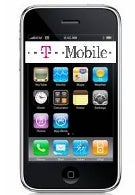 With rumors swirling all over the place on the eve of Apple's event in San Francisco, no less a respectable news agency than Bloomberg is reporting that T-Mobile will be adding the iPhone to its line-up this summer. According to the story, CDMA carriers Verizon and Sprint will get the iconic toucnscreen device to sell in the fall of this year. The actual speculation comes from Wall Street analyst Tim Horan, who works for Investment Bank Oppenheimer. Horan writes, "We believe AT&T's iPhone exclusivity arrangement withApple will be expiring by mid-2010. For wirelesscarriers, customers are demanding the device and they need toremain competitive."Adding additional carriers will increase sales of the iPhone by 15 to 25 million units a year, a number that Apple can't continue to blindly turn its head to. While Apple might greatly benefit from increased sales, the carriers themselves will have to spend some money to make some money. Offering the iPhone would increase the subsidies laid out by the operators, lowering margins, and it is estimated by Horan that carriers would need to commit to spending $3 billion to make sure their networks can keep up with the increased demand for data that comes with offering the iPhone.
Apple iPhone Specifications
|
Review
source:
Bloomberg
via
TmoNews