T-Mobile to give subscribers one year of free Pokemon Go play, and much more
30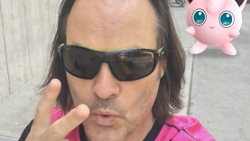 Starting with next week's T-Mobile Tuesday (July 19th), T-Mobile customers won't have to burn through their high-speed data playing Pokemon Go. From next Tuesday through August 2017, T-Mobile subscribers can play as much Pokemon Go as they want without using even 1KB of their high-speed data. That's an amazing offer from T-Mobile given the popularity of the AR game, and could lead a number of serious players to switch carriers. It also might lead to some interesting dinner time talks between kids and their parents about wireless operators.
And there is more. Next Tuesday, the carrier will pay $15 toward a Lyft ride to a new PokeStop or Gym. Along the way, you can stop at Wendy's and pick up a free Frosty. And since playing Pokemon Go on your phone consumes tremendous amounts of battery life, T-Mobile will be offering 50% off on select accessories like battery packs and chargers.
If that isn't enough, on July 19th T-Mobile will be giving away $100 in PokeCoins to 250 lucky T-Mobile subscribers. And five people will win a trip for themselves and a guest to anywhere in the U.S. to hunt for pocket monsters.
Who else but T-Mobile CEO John Legere would come up with a deal like this? We don't know for certain, but we wouldn't be surprised to learn that he is the only high ranking executive in the industry to actually play Pokemon Go. He might even know the names and numbers of the original 151 Pokemon.
Remember, to play Pokemon Go for free for a year on T-Mobile's dime, you will need to click on the T-Mobile Tuesdays app on July 19th, and claim the free data for the hottest mobile game in U.S. history.
"This is what T-Mobile Tuesday is all about — thanking customers with hot, new, totally free gifts every week, and right now, nothing is hotter than Pokémon Go! With the carriers' shared data schemes, players could easily burn up the family's data bucket — and then, hello, overages! At T-Mobile, we're unleashing Pokémon Go so our customers can play free for a year. It's gonna be a fantastic T-Mobile Tuesday!-John Legere, CEO, T-Mobile
Next Tuesday's freebies will show up Friday on the T-Mobile Tuesdays app for iOS and Android.
source: T-Mobile
Recommended Stories