T-Mobile to deliver the G2 as the first device running on its HSPA+?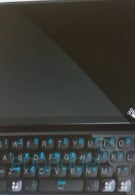 According to sources over at Android and Me, the handset that we
showed you
late last month called the HTC Vision appears to be T-Mobile's first handset for its HSPA+ network. The phone, which was also being called the G1 Blaze at the time of our report, will be the T-Mobile G2 when it launches sometime next month.
The G2 is expected to be rolled out as a Google-experience phone like the G1 did when it became the world's first Android model. According to an insider who was present at a T-Mobile regional meeting, the G2 was shown running stock Android 2.2. The prototype was said to be running a Qualcomm MSM 7230 processor at 800MHz. The chip's clock speed ranges from 800MHz to 1GHz, so we would not be surprised to see the dial turned all the way to the right at launch.
We previously
reported
that T-Mobile had put up a teaser site for their first HSPA+ phone, although the picture on the web page is that of a white, generic looking handset with no features to it. While the site also has no information in the way of specs, the Vision had been described as being an HTC Desire with a slide out landscape QWERTY keyboard. Since it looks like the Vision will get to be called the G2, we can fill in a few details of the white phone. As we get closer to a launch, we should be hearing a lot more about this model such as a complete listing of specifications and pricing information.
source:
AndroidandMe