After cutting the price by $130, T-Mobile is testing 36 month financing on the Samsung Galaxy Note 9
25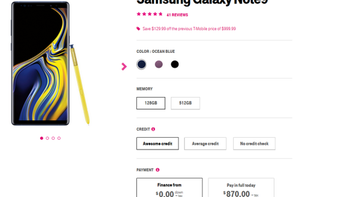 T-Mobile has just dropped the price of the
Samsung Galaxy Note 9
by $129.99. That takes the price of the 128GB version to $870. The price of the 512GB version has been reduced by $130 to $1,119.99. At the same time, the carrier is offering 36 month financing for the Galaxy Note 9 as opposed to the usual 24 month plan. In combination with the price cut, you can now pick up the Galaxy Note 9 from T-Mobile for 36 monthly payments of $24.17. The 512GB model is also $24.17 a month over 36 months, but a down payment of $249.99 is required.
T-Mobile has not implemented 36 month financing across the board, and is just testing this option for a couple of devices. It actually makes sense to go to 36 months since all indications are that U.S. consumers are now waiting longer before upgrading to a new handset. Most carriers used 24 months for financing since it fell in line with the old two-year contracts that phone buyers used to sign. Those were the days when wireless providers offered subsidies on new phone purchases. But with top-of-the-line flagship models now costing four figures, and carriers no longer subsidizing these purchases, U.S. consumers aren't so quick to jump to a new model every two years.
Interestingly, T-Mobile was the first of the four major carriers to abandon subsidies and signed contracts. Back in 2013,
it started offering its Equipment Installment Plan (EIP) inside T-Mobile stores
. While AT&T Next does allow users to pay off a phone over 30 months, T-Mobile is the first to test a 36 month option. And the results of its testing will help the carrier decide whether to make 3 year financing the default option in the future.