T-Mobile retail stores are starting to close
19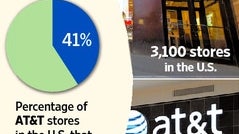 We've spent a lot of time talking about what will happen to our
T-Mobile
contracts, and the overall U.S. wireless market when the
AT&T/T-Mobile
deal is approved. But we've neglected to talk about what happens to the thousands of T-Mobile retailers and their employees. Apparently, many independent T-Mobile retailers are already throwing in the towel in anticipation of the acquisition.
One such retailer is Kirk Brundage, who owned 8
T-Mobile
locations in Idaho and Utah. After he heard about the deal, he decided to sell his locations to an unnamed competitor, rather than wait for the hammer to drop. Brundage explains that there was
"little hope for a dealer of [his] size"
.
This sentiment is rightly shared by many T-Mobile retail owners. AT&T has already promised to 'rationalize' their retail chains in order to make the acquisition more efficient. Combined, the two carriers have 9,200 retail locations, and given the waning performance of physical retail locations, that's way too many.
Forty-one percent of AT&T stores are within one mile of a T-Mobile store
. And those T-Mobile stores will probably be seen as redundant.
Even if retailers aren't cutting stores, they are at least shelving their expansion plans for the time being. Unfortunately, those retailers aren't allowed to discuss retail plans with AT&T, while the deal is still being reviewed. That adds particular uncertainty to the smaller retail owners, that will likely be overlooked by the Ma Bell giant.
source:
Wall Street Journal
Recommended Stories