T-Mobile lowered the curtain on its "Even More Plus" plan online last week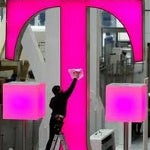 On its face, the T-Mobile "Even More Plus" plan seemed to be a decent option for customers of the nation's fourth largest carrier. Cell phone users would come to T-Mobile with their own phone, or pay the full price on a new T-Mobile handset, and in return the monthly cellular charges would be reduced and there would be no contract.
But Americans seem to be addicted to subsidized handset pricing (as Google found out with the Nexus One) and T-Mobile has taken the plan off-line while the big guns at the carrier put on their thinking cap and try to revise the program. Right now, "Even More Plus" is still available, but only via telephone or from a T-Mobile rep at one of the carrier's retail locations. Americans don't mind getting locked in via contract just as long as a $599 handset goes for $199, and unfortunately for other post-paid options, until someone does the math we don't see much changing in the way cell phone service is priced in the U.S.
source:
EngagdetMobile