T-Mobile is back with new ad aimed at AT&T
23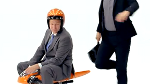 With two ads in the can, but only one being put on rotation, T-Mobile decided it was time to go back to the studio and film another commercial doing what they do best-insult AT&T while playing up their own HSPA+ network. This time, we have another great visual display that gets the fourth largest U.S. carrier's point across.
If T-Mobile's HSPA+, self proclaimed 4G network is a powerful motorcycle, AT&T is little battery operated three-wheeler. Note that when the actress representing the T-Mobile myTouch 4G (Carly is her name) starts to talk to the "Apple iPhone 4", AT&T says, "Don't worry, he can't hear you"-a direct hit on AT&T's network and iPhone users frustration over having dropped calls and weak signals.
Once again, the fact that Apple's Face Time is working only on Wi-Fi for now comes in for attack as the point is made that the T-Mobile myTouch 4G offers video calls "without needing Wi-Fi." T-Mobile repeats the tag line, "America's largest 4G network" which has to be making AT&T's top brass a little upset. After all, as we have
reported
, the latter carrier believes that if T-Mobile can call its HSPA+ network 4G, so can AT&T, which would make them the largest 4G carrier in the country.
source:
YouTube
Recommended Stories