T-Mobile customers truly love the Nokia Lumia 710 seeing it's blessed with a 5-star rating
33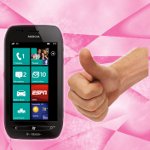 Backed by a
strong advertising presence
, the
Nokia Lumia 710
is looking to gain a lot of
attention from the eyes of consumers
– even though it's not quite that next-gen Windows Phone powered device that some people crave. Well, it's not to say that's a bad thing, since there are other people out there who would settle for a GOOD, yet reasonably priced smartphone that gets the job done.
Still on the fence about picking it up? Well, if you need some concrete evidence that buyers are happy with the Mangofied smartphone, you simply need to point yourself to the direction of T-Mobile's very own web site. From the looks of it, the Nokia Lumia 710 has skyrocketed to the top of the charts in terms of rating amongst T-Mobile's lineup.
5-star average rating
, from 42 reviews by customers, the Lumia 710 appears to be making a profound impact on these people. For a Windows Phone, that's great news and reiterates the fact that there is a high customer satisfaction rating across the board with Windows Phones in general.
Are you skeptical about the average rating from T-Mobile customers? In comparison, the white Samsung Galaxy S II is also rated 5-stars, but it's from a paltry 9 reviews. Meanwhile, the LG GS170 claims the opposite end of the ladder with a dismal 2 ¼ star rating, while the HTC Wildfire S comes in next with its 3-star rating. So there you go people, T-Mobile customers are sounding off their voice, and based on that, the Lumia 710 is clearly on the favorable side!
source:
T-Mobile
via
WMPoweruser