T-Mobile criticizes AT&T's new Mobile Share plans
17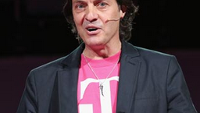 Over the last few months, we've watched as T-Mobile and its outspoken CEO have tried to shake things up in the industry. Amazingly, the carrier has been the tail wagging the dog. From its not so lofty perch as the fourth largest U.S. carrier, it has been T-Mobile that has come up with all of the innovations we have witnessed in the business over the last year. From eliminating subsidized pricing to allowing for multiple upgrades in a year, it has been T-Mobile leading the way with the others trying to copy. The operator was
rewarded with 1 million new customers in the third quarter
.
On Thursday,
AT&T made some changes to its Mobile Share plans
. Instead of a sliding scale, those using a subsidized phone will now pay a flat $40 per month for unlimited talk and text. Of course, data is extra. The problem is that some families were playing as low as $30 a month for each device using the sliding scale, so these people will end up paying more. AT&T did announce that those who bring an unsubsidized phone to the table will only pay $25 a month for that device, saving them $15 monthly. Lowering the base rate for those with an unsubsidized phone is something already offered by T-Mobile and Sprint.
At T-Mobile, the carrier's executives were not impressed. In an email to
CNET
, T-Mobile marketing executive Andrew Sherrard said that AT&T's new plan "
misses the mark
". More importantly, Sherrard noted that a family of four can save more than $600 over AT&T in the first year using T-Mobile's Simple Choice plan.
"After you do the complicated math, in multiple cases, these new plans are actually a price hike for customers."
-Andrew Sherrard, CMO, T-Mobile
There is some sort of animosity between the two carriers dating back to last year's CES in Las Vegas when
T-Mobile's CEO John Legere called AT&T's network "crap"
. Since then, it has been T-Mobile making consumer friendly changes while AT&T, Verizon and Sprint try to play catch-up.
source:
CNET