T-Mobile announces new trade-in offer ahead of iPhone 5 launch
6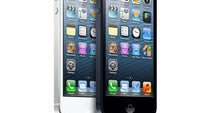 Friday, April 12, will surely be a big day for T-Mobile. That's when the
iPhone 5
will land officially on the carrier's shelves, with support for 4G LTE and all that good stuff. What's more is that T-Mobile will be offering Apple's pride and joy with its new service plans, requiring no long-term commitment. And to make the deal even sweeter, the carrier has announced a trade-in offer for existing iPhone owners.
As of April 12, customers interested in an iPhone 5 from T-Mobile will be able to get up to $120 worth of credit by trading in their used
iPhone 4
or
iPhone 4S
. That credit can then be used towards the purchase of a new T-Mobile iPhone 5, thus essentially bringing its down payment to $0 and leaving enough money to pay for its first monthly installment. Alternatively, the money can be used for buying accessories, paying an existing T-Mobile bill, or even for getting another device.
Just to make things clear, $120 is the maximum credit amount a customer may get. The exact figure may vary depending on the trade-in value of their device.
source: T-Mobile
iPhone 5 Comes to T-Mobile Friday With New
$0 Down Trade-In Offer
BELLEVUE, Wash. — April 10, 2013
— Delivering on its Un-carrier promise to change how wireless is done in America, T-Mobile USA, Inc. today announced it will supplement its amazing iPhone 5 upfront pricing with a special trade-in offer when the revolutionary smartphone arrives in T-Mobile stores this Friday, April 12.
"Our message to iPhone 4S and iPhone 4 customers is simple: bring in your device and trade up to iPhone 5 on T-Mobile," said Mike Sievert, chief marketing officer for T-Mobile. "We're making it incredibly attractive to buy an iPhone 5 by pairing an un-beatable upfront price and trade-in offer with Simple Choice, the most hassle-free and affordable rate plan in wireless."
The special trade-in offer, which lasts through Father's Day on June 16, enables well-qualified customers who bring in their iPhone 4S or iPhone 4 to get iPhone 5 for $0 down plus monthly payments1, with a no annual service contract Simple Choice Plan from T-Mobile. Depending on the trade-in value of their device, customers will also receive a credit of up to $120, which can be used toward monthly payments, an existing T-Mobile bill, or the purchase of accessories or another device.
Through its Simple Choice Plan, T-Mobile is the only major U.S. wireless company offering iPhone 5 with no annual service contract plus unlimited talk, text and Web on a screaming-fast nationwide 4G network.
With T-Mobile, iPhone 5 customers will enjoy an outstanding 4G wireless experience, seamlessly connecting to both T-Mobile's existing 4G and growing 4G LTE networks. T-Mobile recently announced 4G LTE service in seven major metropolitan areas, including Baltimore; Houston; Kansas City; Las Vegas; Phoenix; San Jose, Calif.; and Washington, D.C. T-Mobile's 4G LTE network is expected to reach 100 million people by midyear and 200 million nationwide by the end of 2013. The company's 4G HSPA+ network reaches 225 million people in 229 metropolitan areas.
Simple Choice
T-Mobile offers iPhone 5 customers one of the simplest and most competitive consumer rate plans in wireless. Rather than providing a dizzying number of consumer rate plans, T-Mobile has just one: Simple Choice.
T-Mobile's Simple Choice Plan starts with a base rate of $50 per month for unlimited talk, text and Web with 500MB of up to 4G speed data. Consumers can add 2GB of up to 4G speed data for $10 per month per line or get unlimited 4G data for an additional $20 per month per line. Customers can add a second phone line for $30 per month, and each additional line is just $10 per month. There are no caps and no overages.
Pricing & Availability
iPhone 5 will be available nationwide on Friday, April 12 beginning at 9 a.m. at all T-Mobile company-owned retail stores, as well as online at http://www.T-Mobile.com. iPhone 5 will be available for well-qualified customers with T-Mobile's Simple Choice Plan for $99.99 down and $20 per month for 24 months. 0% APR O.A.C.
1Financing is available on approval of credit online and in participating locations. Device loan balance due on rate plan cancellation. Not available in the District of Columbia. iPhone 4S and iPhone 4 will be available in select markets.
About T-Mobile USA:
Based in Bellevue, Wash., T-Mobile USA, Inc. is the U.S. wireless operation of Deutsche Telekom AG (OTCQX: DTEGY). By the end of the first quarter of 2013, approximately 34 million mobile customers were served by T-Mobile USA — all via a common technology platform based on GSM, HSPA+ and LTE. For more information, please visit http://www.T-Mobile.com. T-Mobile is a federally registered trademark of Deutsche Telekom AG. For further information on Deutsche Telekom, please visit www.telekom.de/investor-relations.



Forward-Looking Statements:



This press release contains forward-looking statements that reflect the current views of Deutsche Telekom management with respect to future events. These forward-looking statements may include statements with regard to the expected development of revenue, earnings, profits from operations, depreciation and amortization, cash flows and personnel-related measures. You should consider them with caution. Such statements are subject to risks and uncertainties, most of which are difficult to predict and are generally beyond Deutsche Telekom's control. Among the factors that might influence our ability to achieve our objectives are the progress of our workforce reduction initiative and other cost-saving measures, and the impact of other significant strategic, labor or business initiatives, including acquisitions, dispositions and business combinations, and our network upgrade and expansion initiatives. In addition, stronger than expected competition, technological change, legal proceedings and regulatory developments, among other factors, may have a material adverse effect on our costs and revenue development. Further, the economic downturn in our markets, and changes in interest and currency exchange rates, may also have an impact on our business development and the availability of financing on favorable conditions. Changes to our expectations concerning future cash flows may lead to impairment write downs of assets carried at historical cost, which may materially affect our results at the group and operating segment levels. If these or other risks and uncertainties materialize, or if the assumptions underlying any of these statements prove incorrect, our actual performance may materially differ from the performance expressed or implied by forward-looking statements. We can offer no assurance that our estimates or expectations will be achieved. Without prejudice to existing obligations under capital market law, we do not assume any obligation to update forward-looking statements to take new information or future events into account or otherwise.

In addition to figures prepared in accordance with IFRS, Deutsche Telekom also presents non-GAAP financial performance measures, including, among others, EBITDA, EBITDA margin, adjusted EBITDA, adjusted EBITDA margin, adjusted EBIT, adjusted net income, free cash flow, gross debt and net debt. These non-GAAP measures should be considered in addition to, but not as a substitute for, the information prepared in accordance with IFRS. Non-GAAP financial performance measures are not subject to IFRS or any other generally accepted accounting principles. Other companies may define these terms in different ways.