T-Mobile Shadow comes in few colors
This article contains unofficial information.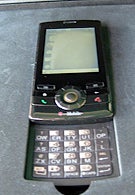 BoyGenius
received some new images of the T-Mobile Shadow, which
as reported earlier
is based on the HTC Phoebus / HTC Juno. There aren't much new details on the smartphone but the screen is most probably a VGA unit and is reported to have very good quality even in direct light. What comes as surprise is that the Stealth won't be available only in glossy Black, but also in Green and Brown variants, just as the Touch. The first rumors revealed that the WM6 Standard smartphone Shadow also has similar interface to the Touch, and thanks to the announcement of the new
S730
we know what it means – a personalized home screen which HTC calls "Live HTC Home".
As it can be seen, the Shadow will be available with 20-key keyboard with QWERTY arrangement and two characters per key, similar to the SureType in BlackBerry phones and to the hybrid in Sony Ericsson smartphones including the P1 and M600. We guess it is similar to the one of the
Touch DUAL
which means it is similar to the SureType (each button is single key, not two-way rocker) but uses the standard T9 for predicting the text.
source:
BGR