Some T-Mobile Samsung Galaxy S10 models are already sold out, Prism White is a coveted color
11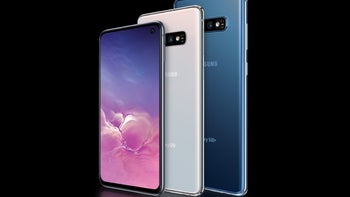 Just a couple of days ago, we noticed that not all of Samsung's
Galaxy S10
and
Galaxy S10+
smartphone variants would be
ready to ship on March 8
- the new phone series' official release date. Today, we're seeing that some S10 models are already sold out
on Samsung's website
and can't be pre-ordered anymore. More exactly, three T-Mobile Galaxy S10 variants are now out of stock, a mere week after pre-orders went live.
The T-Mobile smartphones that are currently sold out are the Galaxy S10 128 GB Prism White, Galaxy S10+ 128 GB Prism White, and Galaxy S10+ 128 GB Prism Blue. Samsung mentions that additional stock is "coming soon," but it's not clear when that will be.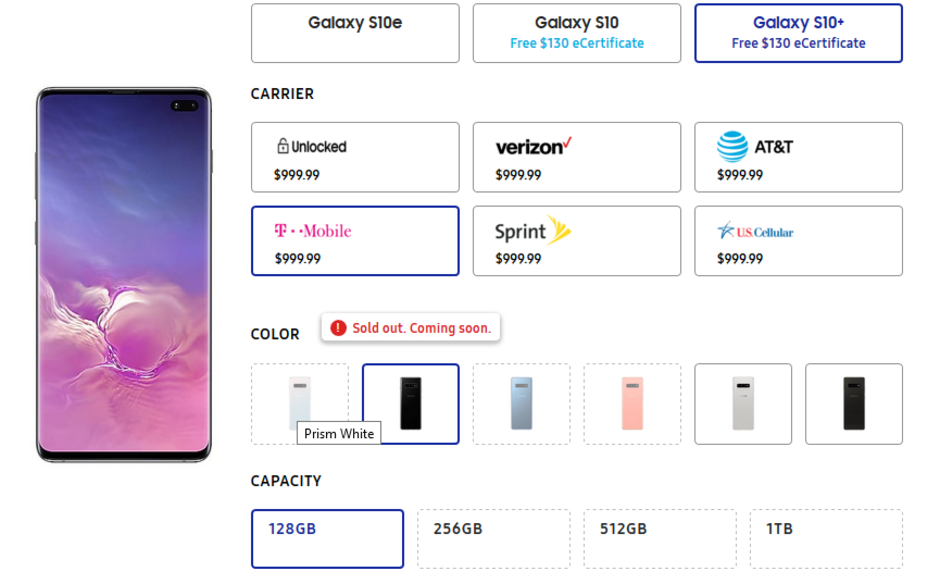 T-Mobile's website does not list the aforementioned Galaxy S10 models as being sold out, but it provides postponed shipping dates for them: between March 27 and April 19. All in all, it looks like Prism White is a very popular Galaxy S10 color - no wonder it's leading in our "
Which S10 color to you like best?
" poll.
It appears that Samsung has underestimated the demand for the Galaxy S10 and S10+ - specifically for the 128 GB models, which come at prices that are somewhat accessible ($899 and $999, respectively). Anyhow, since we do not have access to actual pre-order numbers, for now, we can't really conclude that the Galaxy S10 launch is a success, although it would seem so.
As a reminder, pre-ordering a Galaxy S10 or S10+ before March 7 will allow you to
receive a $130 gift certificate
from Samsung.
T-Mobile itself lets you save $390
on any Galaxy S10 - including the S10e - if you activate a new line or trade in an old phone (in case you want to add a new line
and
trade in an old device, you can save even more).
Have you pre-ordered a Galaxy S10 yet? If yes, have you been provided with details on its shipping date? If not, do you intend to order any of Samsung's new flagship phones anytime soon?