T-Mobile SCORE! leaks; new early phone upgrade plan launches on Sunday?
13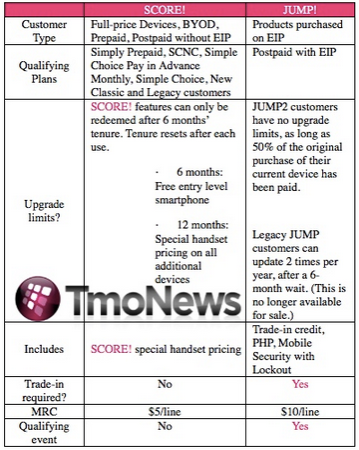 Comparing T-Mobile's JUMP! to the rumored SCORE! early phone upgrade plan
No sooner did Deutsche Telekom's CEO Tim Hoettges say that
T-Mobile's current strategy can't be sustained
, than the U.S. carrier introduced
Smartphone Equality
. This new feature allows those without perfect credit scores to
qualify for the best deals on new handsets by making 12 consecutive on-time payments
. Hoettges does care about T-Mobile because Deutsche Telekom owns 67% of the mobile operator.
Now, it appears that T-Mobile is about to make another big announcement. A leaked document reveals that SCORE! is about to be launched by the carrier on January 25th, which is this Sunday. SCORE! will cost $5 a month and will allow those who don't qualify for JUMP! to upgrade their phone early. Those who have paid the full retail price for their phone, or who have a pre-paid or postpaid account without EIP, can subscribe to SCORE! Also eligible are T-Mobile customers who bring their own phone.
An easy way to look at this is that postpaid customers with an equipment installment plan (EIP) can subscribe to JUMP! while all other T-Mobile subscribers can pay $5 a month for SCORE! After 6 months, those signed on to the plan can upgrade free to an entry level handset. Current examples of entry-level phones would include the
Alcatel OneTouch Evolve 2
,
Alcatel OneTouch Fierce 2
,
LG Optimus L90
or the
T-Mobile Concord II
. If you wait for 12 months, you can use SCORE! to obtain special pricing on higher-end handsets. Once SCORE! is used, the month count starts over again beginning with zero.
source:
TmoNews