T-Mobile launches the most affordable 5G smartphone in the US
2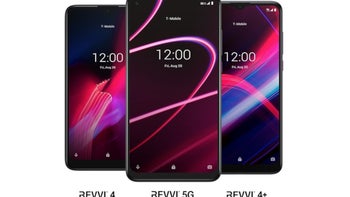 Leaked about two months ago
,
T-Mobile
's new REVVL series has finally been introduced and is now available for purchase via
Un-carrier's official channels
. The new series consists of three affordable devices: REVVL 4, REVVL 4+, and REVVL 5G.
By far the most interesting of the trio is the REVVL 5G, which is the most affordable 5G smartphone in the United States. For a limited time, customers can pick this one up for just $200 via 24 monthly bill credits when they activate a new line. If you plan on taking T-Mobile's deal, know that if you cancel wireless service, credits may stop and you'll have to pay the remaining balance.
The REVVL 5G will start shipping on September 4, just like the other even cheaper smartphones, the REVVL 4 and
REVVL 4+
. Even if you don't want to activate a new line, the REVVL 5G is still a good deal at just $400 outright.
As far as the REVVL 4 and 4+ goes, they are available for $5/month and $8/month, respectively – all over 24 months with $0 down for well-qualified customers on T-Mobile's no-interest equipment installment plan. After the 50% off promotion ends, the REVVL 5G will revert to full price and customers will be able to get it for $16.67/month for 24 months with $0 down.
The REVVL 4 can also be purchased for $120, while the REVVL 4+ costs exactly $192. It's also worth mentioning that all three phones will be coming to Metro as well, and customers will be able to get them for free (REVVL 4/4+) or for just $200 (REVVL 5G) after 24 bill credits when they switch or add a line.
Specs-wise, the REVVL 5G is quite decent thanks to the
Qualcomm Snapdragon 765
processor inside, paired with 6GB RAM and 128GB storage. The phone sports a large 6.55-inch FHD+ display, a triple-camera setup (48MP+8MP+5MP), and a large 4,500 mAh battery.
The REVVL 4+ lacks
5G
support, but it does pack a large 6.5-inch HD+ display and a decent 4,000 mAh battery. This one is equipped with a 1.8GHz octa-core Qualcomm Snapdragon 665 processor, 4GB RAM, and 64GB internal memory.
Last but not least, the cheapest of the three, the REVVL 4 features a slightly smaller 6.2-inch HD+ display and a 3,500 mAh battery. On the inside, the phone packs a 2GHz quad-core MediaTek MT6761V processor, 2GB RAM, and just 32GB expandable storage. Obviously, all three REVVL phones run Android 10 right out of the box.