T-Mobile Nexus 5 now officially on sale online for $449
21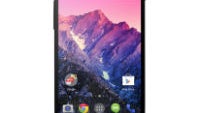 The Google Nexus 5 has been on back order through Google Play since a few hours after it launched two weeks ago, and just a few days ago the 16GB black Nexus 5 completely sold out on the Play Store. But, T-Mobile has come to help out those who may want to get their hands on Google's new flagship smartphone. The Nexus 5 is now officially on sale from the carrier.
The device is not yet found in T-Mobile stores, that won't be happening until next Wednesday
November 20th
. And, the device does come at a premium, because T-Mobile, unlike Google, would like to make a bit of profit on the hardware. But, if you want a T-Mobile Nexus 5, you can order one online for $449 full price or on an equipment installment plan for $41 down and $17 per month for 24 months.
So, it's a $100 premium to avoid having to wait for the Nexus 5 to get back in stock directly through Google. Of course, it's also still about $150-200 less than you'd pay for a device of this caliber if it had been released by anyone other than Google. What do you guys think? Is it worth it?