T-Mobile G2 won't tether at launch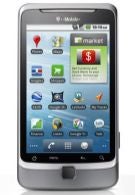 A screen shot of the
T-Mobile G2
's FAQs shows that the device will not support wireless tethering at launch. As this is a native feature of Android 2.2, many on the pre-order list might be disappointed.
Don't worry too much, though. The statement from T-Mobile indicates that tethering will be added some time down the line. The item reads:
T-Mobile does not currently support handset tethering or offer a tethering rate plan. Though tethering and Wi-Fi sharing will not be initially supported on the T-Mobile G2, we know that consumers are interested in these features and we are working to develop a solution to support them in the future.
The tethering feature might not be a deal-breaker, but customers surely want to experience every feature available with the G2. Fair warning: the 'solution' they're referring to will undoubtedly include a fee, in order to discourage bandwidth gluttony and offset their network expenses.
T-Mobile G2 Specifications
source:
TmoNews
via
MobileCrunch