T-Mobile CEO says the company will get to LTE on its own terms, no need for shared data plans
10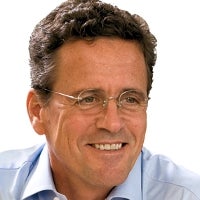 Now that the AT&T deal to acquire T-Mobile has fallen apart for the foreseeable future, the CEO Philipp Humm is clarifying the road ahead for America's fourth largest carrier.
As music to our ears, Mr Humm said that T-Mobile will keep the value plans that exchange a lower monthly fee for selling you unsubsidized device, but has no intention to introduce shared data plans, just stick with discounted additional plans.
We know that phone subsidies are eating away a lot from carriers' profits, and T-Mobile's approach might turn out successfully pragmatic, considering that
devices like the iPhone 4S affected significantly Verizon's margin last quarter
. Speaking of the iPhone, the CEO said it is up to Apple whether it will make a version for T-Mobile, but he said the modern chipsets are starting to include every band under the sun, including T-Mo's odd ones, plus he is seeing the company moving slowly towards LTE adoption, so a T-Mobile iPhone should eventually happen.
About the LTE adoption bit, Philipp Humm clarified that the technology is certainly the future, as it allows much better utilization of the existing spectrum, which is already getting overly congested, but T-Mobile is not as severely affected by the congestion phenomenon as other carriers, so it is not as pressed to move to LTE. Its HSPA+ network will continue to be upgraded for more theoretical speeds than the current 42Mbps maximum, further giving T-Mobile freedom to choose entering the LTE foray on its own timing.
via
AllThingsD