T-Mobile CEO John Legere throws in his two cents on Sprint's new 50% off plan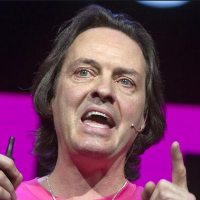 T-Mobile CEO John Legere spent much of today on Twitter, sending out tweets about
Sprint's new 50% off plan announced earlier today
. This is the second time Sprint has offered a plan to cut new a subscriber's monthly invoice in half, when making the switch to Sprint.
The first time the plan was in effect, it lasted from December 5th 2014 through March of this year
, but T-Mobile customers were not included in the deal.
Starting on November 20th, T-Mobile, Verizon, and AT&T customers subscribed to certain plans, can cut their monthly bill in half by switching to Sprint. The new rate stays in effect until January 7th, 2018. Sprint will also give you $650 for each line switched to cover the ETF, but to get that payday you need to trade-in your current phone.
Now that T-Mobile customers are being targeted by Sprint, John Legere tweeted some of the less than tasty parts of the plan. As the T-Mobile executive pointed out, each account requires an activation fee of $36. That compares to the $0 in activation fees paid by T-Mobile customers. Legere also points out that Sprint doesn't offer rollover data, which T-Mobile calls DataStash.
Sprint has been on the hot seat recently after advertising a new plan as offering
unlimited data for $20 a month, even though it offered only 1GB of high-speed data
. Many have called this misleading. And while Sprint's new plan will take 50% off the monthly bill of T-Mobile, Verizon and AT&T customers who qualify, Legere says that very few T-Mobile customers would be eligible.
Want to know what else Legere had to say about Sprint's new plan? Click out the slideshow to see the tweets written by T-Mobile's CEO in typical Legerian fashion.
source:
@JohnLegere
via
AndroidCentral