Swing Copters is the next game from Flappy Bird creator Dong Nguyen
14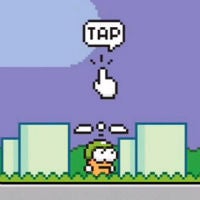 Flappy Bird was an unequivocal phenomenon, and even became too much for its own creator, Dong Nguyen. Nguyen ended up pulling the game from app stores because of how addictive it had become, despite the game earning $55,000 per day in ad revenue. Now, he's coming back with a new game called Swing Copters, and it doesn't look like he's stretching himself too much with this new concept.
From the looks of the trailer video, Swing Copters is essentially Flappy Bird turned vertically. It looks like once again the only interaction is a simple tap, but this time your little copter will swing left and right as it rises, and your tap will cause your copter to change direction. As you rise, you'll have to avoid swinging hammers on either side of the screen. And, of course, touching anything will kill you. Add in the retro pixel graphics, and it really does look like a vertical Flappy Bird.
Time will have to tell if Swing Copter can capture the same balance of difficulty and frustration to keep players hooked, but an early hands-on from
TouchArcade
makes it sound as though it is a very sticky game. Swing Copters will be released next week, likely for iOS and Android, but that hasn't been confirmed. The game will be free to download, and have an in-app purchase of 99 cents to remove the ads.