SwiftKey updates Android app, adds SwiftKey Stats
5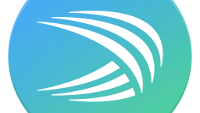 Back in January,
third-party keyboard app SwiftKey introduced SwiftKey Stats
, a feature for its Android app that keeps track of certain data generated when you type using the app. While SwiftKey Stats was made available on the SwiftKey for Android beta, starting today it is offered on the regular SwiftKey for Android app. With this new feature, you'll learn more about yourself than you would have by sitting on a shrink's couch for an hour. For example, you will find out the top three to five topics that you write about the most.
You will also find out which emoji you use the most, and the one that you use much more than the rest of SwiftKey's users. This is called your
signature emoji
. SwiftKey Stats also tracks how many new words were added to your personal vocabulary. This figure starts at zero when you install the app, and the sky is the limit.
All of the data generated by SwiftKey Stats is presented in colorful graphs and charts making it easy to learn a few things about yourself. You can share the data with your friends or family if you choose, or keep it to yourself. First things first though. You do need to install SwiftKey for Android (it's a freemium title), and you start the process by clicking on the sourcelink below.
source:
SwiftKey