Suspicious Google Nexus Foo 10.3-inch device hits benchmark site
17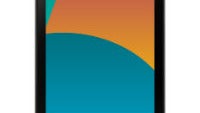 For the most part, we try to only bring you the rumors that come from reputable sources, and have at least some weight behind them. This is not one of those rumors. The first thing to keep in mind is that benchmark sites are both notoriously easy to fool, and are filled with prototype devices that never see the light of day, which is where we expect this Nexus Foo 10.3-inch device to fall.
Benchmarking website GFXBench had an interesting listing pop up in its database: a device labeled the Google Nexus Foo. According to the benchmarking site, the Nexus Foo is a 10.3-inch device with a 1920x1080 display resolution, powered by a Tegra 4 clocked at 1.9GHz, and 2GB of RAM. You'll notice we haven't called this device a "tablet", because the GFXBench listing labels the device as having "no touchscreen". In addition, the device has no rear camera, only one on the front. And, the Foo has Bluetooth and Wi-Fi, but no accelerometer, barometer, GPS, compass, gyroscope, light sensor, NFC, or proximity sensor.
Based on the features it has and doesn't, the Nexus Foo sounds more like a laptop than a tablet. But, the more strange thing is that the Foo is listed as running Android KKWT, which is the Android Wear build number; and, it is listed with OpenGL ES 2.0, which is more associated with Android Wear. Android phones and tablets running 4.3 or 4.4 use OpenGL 3.0, and Android L will be adding support for OpenGL 3.1.
Basically, nothing about this listing makes any logical sense. The nickname "Foo" doesn't fit with Google's standard of aquatic animals for Nexus codenames. The device has no touchscreen and none of the usual sensors. It's a 10.3-inch display, but it's running Android Wear. If this listing is coming from a real device (which is highly debateable), it is a Frankenstein's monster of a device. And, we'd bet it doesn't connect to anything in the commercial pipeline from Google.