Survey: Apple iPad turns in strong second quarter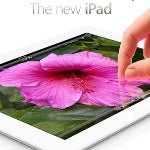 "Global tablet shipments reached 24.9 million units in Q2 2012, jumping 67 percent from 14.9 million in Q2 2011. Demand for tablets among consumer, business and education users remains relatively healthy. Apple shipped a robust 17.0 million iPads worldwide and maintained its strong market leadership with 68 percent share during the second quarter of 2012. Apple continued to shrug off the much-hyped threat from Android and the iPad's global tablet share is at its highest level since Q3 2010."-Peter King, Strategy Analytics
The third-generation Apple iPad had a very good second quarter
as opposed to the rest of Apple
. While
the Apple iPad sold 17 million units to beat analyst's expectations
of 16 million tablets, the Apple iPhone sold 26 million units during the three month period which was 2 million phones shy of what Wall Street was looking for. Not only was the Apple iPad the hero of the quarter inside the Cupertino based firm, it also wore a bright red cape for the entire tablet market.
According to Strategy Analytics, the Apple iPad controlled
68% of the tablet market in the second quarter
versus the 62% it had in the same quarter a year ago. A total of nearly 25 million tablets shipped in the period and the 68% is the highest share owned by Apple's tablet in two years. Android remained flat with a 29% slice of the pie. While that doesn't sound like Android made any progress in the quarter, the raw numbers show that shipments of Android tablets
actually rose by 7.3 million units
,
but only kept pace with the increase in the entire tablet market
.
"
Despite high expectations for companies like Amazon, Samsung, Acer and Asus, the Android community has yet to make a serious dent in Apple's dominance of the tablet market. Unspectacular hardware designs, limited uptake of cellular models and a modest number of tablet-optimized services have been among some of the main reasons for Android's mixed performance so far."-

Neil Mawtson

, Executive Director Strategy Analytics
The next few reports should be interesting as a number of new models will be joining the Google Nexus 7 including a
sequel for the Amazon Kindle Fire
and the
expected Apple iPad mini
.
source:
BGR