Supposed LG G2 mini clears the FCC, might not be so mini after all
22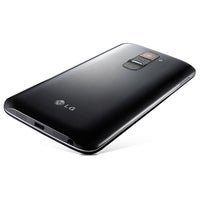 Rumor has it that LG is working on a smaller variant of its current flagship smartphone, the
LG G2
. It is also believed that this "LG G2 mini", or whatever the device ends up being called, will go by
multiple model names, including LG D618 and LG D620
. Well, the former is now listed in FCC's database, and here's all the information that we could squeeze out of the papers.
First and foremost, the LG D618, aka LG G2 mini, might not be so small after all. The handset is 2.59 inches (65.8 mm) wide and 5.07 inches (128.8 mm) tall, which makes it about as large as an
LG Optimus L9 II
. In comparison, the LG G2 is only a bit larger, measuring 2.79 inches (70.9 mm) by 5.45 inches (138.5 mm). Given its proportions, this alleged
LG G2 mini might indeed come with a 4.7-inch display
, as rumored. It is also worth mentioning that the smartphone will sport a removable battery, according to what is said in the documents. The cell's capacity, however, isn't being specified. Of course, all standard connectivity options are available on the LG D618. There's Bluetooth, GPS, and Wi-Fi with mobile hotspot support.
No further specs about the LG D618 are being listed in the FCC filing, but according to speculation, the LG G2 mini could come with a Snapdragon 800 SoC and 2GB of RAM, just like its bigger counterpart. The camera, however, might be treated to a downgrade as the mini could only have an 8MP snapper.
At this time, that's all we think we know about the LG G2 mini. Perhaps if the phone is meant to be announced soon, we might get to see it later this month at the MWC expo.