Superbook Android laptop shell passes $1 million in Kickstarter funding
11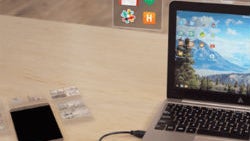 The idea of creating a way to use a smartphone as a laptop is one that has endured for years but has never been done terribly well. That hasn't stopped manufacturers trying and consumers getting excited about a new product that looks like it could be the real deal. The latest in that line is the
Superbook
shell that can turn your Android phone into a laptop.
The idea of the Superbook is simple: it is a barebones laptop shell with a display, battery and keyboard and you connect your phone to power the experience. The Superbook was announced earlier this month and the Kickstarter campaign aimed for a goal of just $50,000. Within the first hour, the campaign had generated $150,000, and yesterday, one week into the Kickstarter, the Superbook passed $1 million in funding.
This means the Superbook has already passed a few stretch goals so there will be international language decals for the keyboard, an extra full-sized USB port, a bigger battery (bumping battery life projections from 8 hours to 10 hours), and now you can even get a 1080p display for a $30 premium. With 21 days to go, it looks like even more stretch goals are possible, including free customizable Superbook sleeves with phone pockets at $1.5 million and an option for a backlit keyboard after $2 million in funding.
Maybe even more impressive is that the Andromium OS app, which allows users to connect an Android device to any monitor/keyboard/mouse setup, even if you don't buy the Superbook, has made it into the 100,000 to 500,000 download range in the Google Play Store and has a 4.2 star rating. Even if the Superbook hardware disappoints, Andromium OS may be the big winner here.