SuperTooth HD Voice hands-on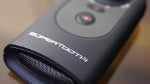 Nearly two years later, we're finally seeing the successor to the
Bluetooth speakerphone in the SuperTooth HD
– and boy did it take a long time! On one hand, you'd think that the lengthy time in development would produce something totally new and improved, but interestingly enough, this successor doesn't particularly try to improve dramatically on the formula. Instead, the now available
SuperTooth HD Voice
functions the same.
To be honest, though, we're glad to notice how this new model
feels sturdier
than its predecessor, so there are no qualms with its construction. Donning a nearly identical design, the SuperTooth HD Voice stands out primarily for its over-sized volume knob, which so happens to act as a multi-function button as well. Featuring two speakers with its
V-array technology
, it produces a total audio output of 5 watts, which is ample enough to encompass the constricting surroundings of your car seat area, but not enough for larger sized spaces. Not interested in picking up that phone call? Well, there's a dedicated button that rejects calls with a quick press – while a quick tap on another button on its body turns it on/off. Lastly, magnets on its belly allow us to attach the included clip, which can then be placed on a visor.
We won't be too demanding about the lack of a new design with the SuperTooth HD Voice, but of course, it comes down to audio quality. As a dedicated music speaker, it lacks the robust tones to make our ears fall in love with its quality. However, when it comes to listening to our callers in the car with it, the dual speakers manage to focus the audio so that it has a strong presence in front of us. Indeed, it's nice that
noise-cancellation
kicks in relatively quickly, which drowns out background noise, but our callers mention how our voice has a bit of
distortion
. Aside from that, we appreciate how it provides voice prompts for a variety of things – such as battery level and incoming calls. Thankfully, this latest model is priced better than its predecessor out of the gate, so the
$89
cost might not be as pocket busting as some people would anticipate.