Griffin SmartTalk Solar speakerphone gets its juice through solar power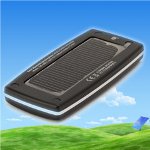 With Earth Day past us, it doesn't mean that you need to forget about trying to be as green-friendly as possible. In fact, it's something that we should all strive to remember throughout the year. Luckily, accessory maker
Griffin
has one new gadget that aims to keep you talking hands-free on the road – while still continuing your pledge to be energy efficient.
Available today, the
Griffin SmartTalk Solar
stands out mostly for its
eco-friendly
gesture of getting its juice through solar power. Essentially, you suction this speakerphone to your vehicle's windshield, where its solar panel is able to bask in sunlight, thus, producing the power required in juicing it up. And of course, since it's probably going to remain stationary there, it'll continue to accumulate the sun's rays to keel its internal battery charged.
Aside from all the green-friendly things associated with the SmartTalk Solar, it features some standard items normally found with other
Bluetooth enabled
speakerphones – such as Auto Connect to easily pair with devices, multipoint to allow two devices to connect to it simultaneously, a large multi-functional button, and voice command features. Combine it with Griffin's
DriveSafe App
, it'll ensure to minimize distractions while driving on the road.
For those interested, you can pick up the Griffin SmartTalk Solar for
$69.99
through the company's web site. Heck, just think about it for a moment, you won't have to ever pay money to charge this thing, since it gets all it needs through solar power.
source:
Griffin