'S'up, space pilot?' Roid Rage Android game review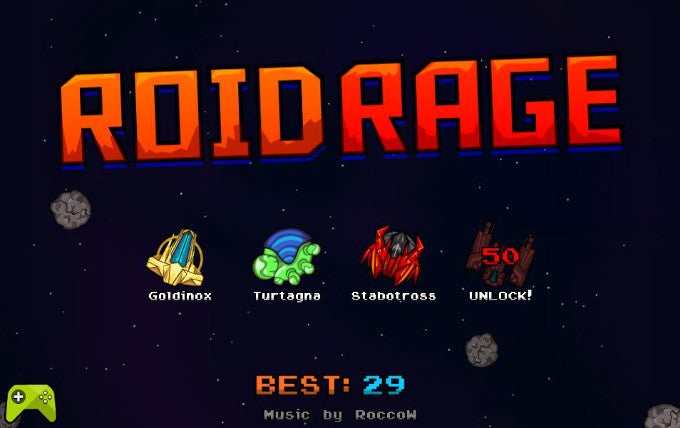 | | |
| --- | --- |
| Developer: Butterscotch Shenanigans | Download: Android |
| Category: Arcade & Action | Price: Free, with in-app purchases |
Longing for some good ol' arcade asteroid dodgin' ? Roid Rage just popped up in the Play Store, and with a developer like Butterscotch Shenanigans, you know it's bound to be sweet. Looking refreshingly oldfashioned, Roid Rage reminds you of your wasted youth, with the countless hours (and money) spent at the local arcade game joint, shooting alien objects hurtling through space.
Here you don't actually have to shoot anything, but there are asteroids... and dodging. The goal of the game, and its controls, are very, very easy simple, but, as
rapid hits like Flappy Bird
constantly demonstrate, a title doesn't have to have fancy graphics, or elaborate gameplay, in order to be tons of fun. "
S'up, space pilot?
" asks Roid Rage when it pumps you up to take it for a spin, and once you enter, the gameplay can be summed up in two phrases: "
Slap a ship. Get the juice
."
The so-called "juice" are colorful whirlwinds of light sprinkled through an asteroid field, which you have to collect, avoiding the space rocks. Controlling the ship is also stupefyingly easy, as you just tap on the left side of the screen for the thing to turn left, and on the right side for the opposite direction. That's all, you are just score-mad at this point, and frantically tapping to avoid collisions, on your way to the next juice ball. Naturally, there are in-app purchases towards faster and more maneuverable ships, or simply to remove the ads, but devs are people, and they have to eat, too.
As simple as it is, Roid Rage proves very addictive, and gets rather intense as you progress through space. That's the trickery, as you can never get tired of collecting those space lights, while dodging nasty asteroids. Go grab it from the Play Store, and check it out for yourself, we guarantee that you'll want to download everything else that the developer Butterscotch Shenanigans has done, too.
| | |
| --- | --- |
| Developer: Butterscotch Shenanigans | Download: Android |
| Category: Arcade & Action | Price: Free, with in-app purchases |