Student develops smartwatch app to help veterans suffering night terrors from PTSD
9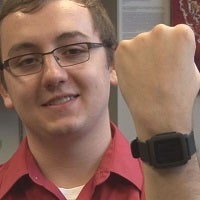 Tyler Skluzacek's father is a veteran of Operation Iraqi Freedom, and after a year-long deployment, Sergeant First Class Patrick Skulzacek found himself a changed man, contending with various symptoms of PTSD, including night terrors.
"At three in the morning all of the sudden I'm startled awake," says SFC Skulzacek. Tyler, now a senior at Macalester College, saw the changes in his father, and that inspired him to create something that may help not only his dad, but also help other veterans, and anyone else suffering from PTSD.
Tyler and his friends entered a programming contest called HackDC. At these hackathons, teams get challenged to hammer through code and create apps in mind-numbing speeds. Tyler's team, "
The Cure
," produced an app called myBivy (short for bivouac, meaning place to sleep).
Apple Watch
, or Pebble, to monitor heart rate and body movement during sleep. "After a couple weeks of tracking the soldier we can find the exact symptoms of the onset of the panic attack and try to use the watch or use the android phone to disrupt that or take them out of the deep sleep but keep them asleep."
For their part,
The Cure
won the top prize for their category, $1,500, which the team immediately funneled to development, and start a Kickstarter campaign so they may continue development.
The team plans to begin clinical trials in collaboration with the Department of Veterans Affairs early next year.
This may prove to be another handy tool outside of prescription drugs for veterans and others that suffer from PTSD. The VA and other entities have produced
PTSD tools for smartphones before
, but this is the first development that attempts to bring the technology into a more interventionist role.
The Kickstarter campaign has already surpassed its goal. You can check it out in the source link below.
sources:
Kickstarter
via
KARE News