Applications that help military veterans
4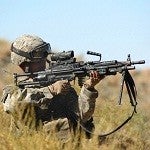 For over 10 years, the armed forces of the United States and her allies have been engaged in active combat operations in Asia and the Middle East. While the ethical, moral and legal arguments about these campaigns have been, and will continue to be debated, there is no doubt that military assets and personnel have seen their endurance tested to the limit.
Taking those obvious debates aside, there are a myriad of issues that are arising with veterans from all nations after repeated deployments and combat engagements. These operations have resulted in multiple challenges not just for veterans, but their families and communities as well. The most prevailing injury out of the wars is traumatic brain injury (TBI) along with Post-Traumatic Stress Disorder (PTSD). The reason why this is so much more of an issue compared to previous conflicts is because it is simply harder to kill the modern soldier. Ballistic armor, up-armored vehicles, and mine-resistant ambush protected (MRAP) vehicles have all played a role in protecting the service member. The response from enemy elements has been to create a bigger explosion, a bigger blast to break through the armor and cause harm. Even then, much of the time, the blasts fail to penetrate NATO armor. However, the concussive effect, the shockwave of the blast does. Couple that with the physical impact of the blast, sudden, jerking movements causing the heads of the occupants to hit panels inside the vehicle, now there is the risk of TBI being introduced, and the continued combat engagements overwork the stress coping mechanisms in the human psyche which, in turn, contribute to PTSD. While TBI has a physical component to it, that is not always the case with PTSD.
These applications, available for iOS and Android, are designed to assist veterans, or anyone who has been dealing with PTSD. Several of them were designed in whole or in part by teams within the US Department of Veterans Affairs National Center for PTSD, the National Center for Telehealth and Technology, and the Center for Deployment Psychology. For the record, we did look through the Windows Phone Market and BlackBerry App World and there are no companion apps available for those platforms at this time. There are a couple of privately developed apps there, but they are not free and they do not appear to have been downloaded or reviewed. Now, we will take a look at some applications that might provide assistance. This is not meant to be a complete list, Google Play and iTunes have dozens of applications related to the condition. Some of them are free, others are not.
PTSD Coach
The PTSD Coach is a fairly comprehensive self-assessment and symptom management application which provides a fair amount of depth with each component of the app. Divided into four primary functions, PTSD Coach provides tools to learn about the condition, the ways it can be treated and helps you track the intensity of your symptoms as well as offer methods to abate them when things get too intense. The app also provides ways to get help as well as let you set up your own support channel for easy access to contacts that can help you.