The Woz responds to Apple's $1 trillion+ valuation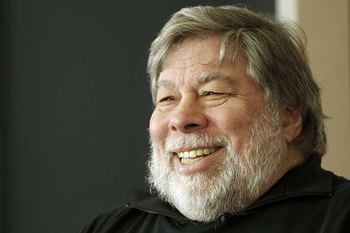 But in his typical humble fashion, the Woz added that he doesn't "measure the world by human simplifications like round numbers. A company is great because it is great," he said today. Wozniak left Apple in 1985, although he is still an employee on the payroll (the check is small, says the Woz).
We know that you're probably wondering whether Wozniak still owns any Apple shares, and the answer is yes. But he has reduced his holdings over the years. At the time of the IPO in 1980, the Woz owned 7.9% of Apple, which means that had he not sold some shares over the years, his Apple stake would be a worth a cool $79 billion today. As it is, the Woz is reportedly worth $100 million which makes him a wealthy success in anyone's book. Plus, he's a really nice guy to boot. And Wozniak loves devices; in that regard, he's one of us. Over the years, we've seen him with various Android handsets (at least
until the iPhone 6 launched
). And he keeps current. Referring to Facebook's Cambridge Analytical scandal, Wozniak said "We (Apple) are a company based on great products, and we don't have to invade your privacy to do it."
Wozniak cites the return of Jobs to Apple in 1997 as the key to the company's surge in valuation. A more mature Jobs than the one who was fired by John Sculley rolled out a series of successful devices that might never be repeated. From the iMac to the iPod (the product that Wozniak said really started the huge rally in the stock), followed by the iPhone and the iPad, Apple became a Wall Street darling. And if anything, current CEO Tim Cook has kept the company on a steady course, deviating from Jobs' playbook when necessary.
But none of this would have happened if Steve Wozniak didn't build that first Apple I circuit board, and if Steve Jobs didn't sell the heck out of it. One trillion dollars later, here we are.