Steve Jobs may make an appearance at tomorrow's event
13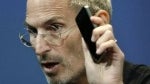 According to multiple unconfirmed sources, Apple CEO Steve Jobs is considering making an appearance at tomorrow's
iPad event
. Amid rumors of Jobs' rapidly declining health, there has been doubt that he would be on site to participate in the iPad 2's unveiling.
While the Apple event is sure to cause a stir either way, an appearance by their fearless leader would definitely increase the buzz, and bring smiles to the faces of many Apple devotees. He may be seen alongside other Apple execs, but it's very doubtful that he will lead the presentation.
Jobs has been spotted around the Cupertino campus, as well as alongside
President Obama
at a high-profile Silicon Valley dinner. But considering how the
paparazzi
have beleaguered his declining health, our concern is that people might be evaluating his appearance, rather than his latest tablet-triumph.
Our hearts go out to Steve Jobs and his family. And although an
Apple
unveiling wouldn't feel the same without him, we're hoping he'll do what's in his best interest, rather than make an appearance just for the sake of Apple's shareholders.
source:
All Things Digital